Time to talk and safe spaces for primary care staff in south east London
In addition to programmes for practice managers and nurses, there are wellbeing and
creativity groups for primary care staff across the six boroughs running throughout the
week, including evenings. More relevant webinars and events will be available in the
coming weeks. Information and resources on Doctors in Distress website.

• Lunchtime wellbeing seminars for all practice staff in SEL
• Wellbeing and creativity groups at various times and for all practice staff in SEL
• Time to Talk support groups for practice nurses, eight-week daytime programme
• Time to Talk support groups for practice managers, eight-week daytime programme

Flexibility will be built into future programmes. A programme evaluation will be shared at
the end of the project, including best time of day to maximise attendance.
Our NHS People
Website supporting all NHS Staff :Helping you manage your own health and wellbeing whilst looking after others. people.nhs.uk Includes access to:
free 1:1 wellbeing support sessions with clinicians and coaches through project5
access to free mental health and wellbeing apps.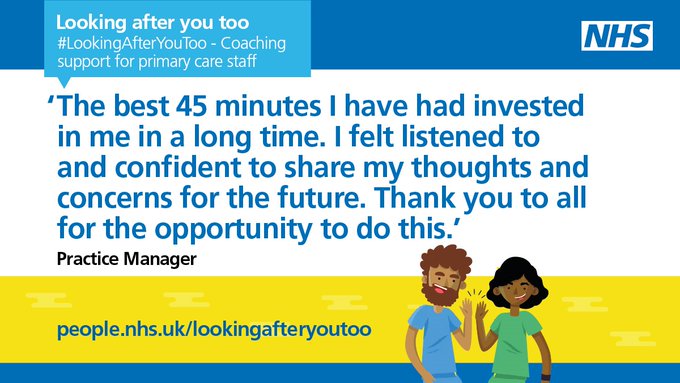 Free well-being Apps for NHS staff – extended until March 31st 2021 (further updates awaited)
Practitioner Health Programme (PHP)
Resources including wellbeing webinars and podcasts
PHP is a specialist mental health service for Doctors, Dentists, Medical Students in clinical years and Retired GPs returning to practice. It can be accessed by self-referral. The service can help with issues relating to a mental health concern, including stress or depression or an addiction problem, in particular where these might affect work. The service is provided by health professionals specialising in mental health support to doctors.
Free mindfulness resource from Kings Health Partners (New January 2021)
All staff in SEL can now access Mindfulness for All guided meditation sessions via the KHP Learning Hub. Further details can be found here.
Royal College of Nurses Support
A range of free services for members of the Royal College of Nurses including counselling, peer support and welfare service
BMA Wellbeing Support
A range of free services for Doctors and Medical Students (regardless of BMA membership) including 24/7 counselling and peer support
Support for Managers and Leaders
Psychological Support
Risk framework for staff
Financial Support
Don't forget that we are working with the Money Advice Service to provide all health and social care staff with free and independent financial support. We have a variety of offers that you are able to access or signpost colleagues to who may need this support:
Support line: Free and impartial money advice
Online support: Hub of Resources
Virtual interactive events: Managing Your Money
If you need support now, you can contact the Money Advice Service for free, confidential and impartial money advice by telephone on 0800 448 0826, via WhatsApp to +44 7701 342 744 and via web chat.
SEL CCG support
NHSE support
---
Good teamwork, leadership and communication – non-technical skills – will give you,
patients and colleagues a better chance of staying safe.
A series of short videos on staff wellbeing, compassion and supportive leadership and teams during Covid-19 crisis
---
Bereavement support
Bereavement support for #OurNHSPeople. Staff can access bereavement support online or call the confidential bereavement support line, operated by Hospice UK, on 0300 303 4434. This is free to access from 8am – 8pm, seven days a week.