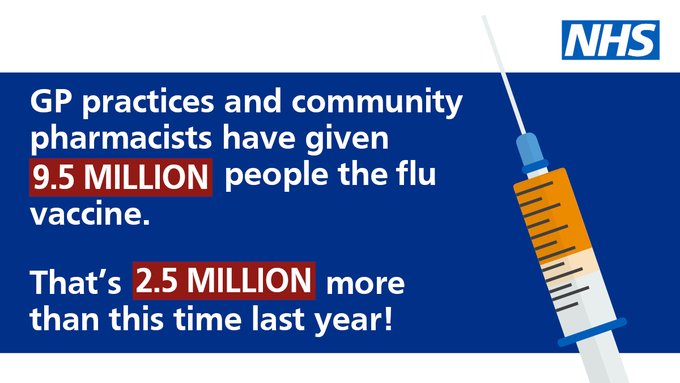 Londonwide LMC Flu Guide (Published 30th October 2020) including a link to PHE guide "Which Flu Vaccine Should Children Have?"
Additional flu supplies available to general practice. You can read the DHSC letter here.
Vaccine Supply
Please find an update from Seqirus (via NHS London's Immunisation Team) on the
availability of their Flucelvax Tetra (QIVc) vaccinations.
Recording flu vaccination data in pregnant women
Here's a letter issued by Dr Angela Bhan, Senior Responsibility Officer for Vaccination in SEL, (3rd December 2020) which sets out how GPs record data on flu vaccinations in pregnant women including from maternity units.
National flu vaccination programme update for those aged 50-64 (not in risk groups)
Thank you for the work you continue to do in general practices and community pharmacies in vaccinating eligible groups for flu. The programme is continuing, so please offer vaccinations over the coming weeks to all eligible adults and children who have yet to be vaccinated.
The national call and recall system for the flu vaccination programme is this week writing to 50 to 64 year olds (not in at risk groups) who have not yet had their vaccination, in order to help achieve as high uptake in this cohort as possible. There is still some vaccine available for community pharmacies to order for this group – information on this is available in the Department of Health and Social Care (DHSC) stock guidance for pharmacies. If you are a general practice and have run out, please check with your local system for anyone who has spare vaccine before ordering, but there is still vaccine available from both Seqirus and Sanofi if required. To order please refer to the DHSC guidance for practices.
In addition, phone calls are continuing to those in at risk groups who have been sent a letter but have not yet taken up their vaccination. As a result, some individuals may receive a call from the NHS Immunisation Management Service on 0300 561 0230.
Public leaflet on the extended 2020 to 2021 flu vaccination programme for 50-64 year olds
50-64 year olds become eligible for a free flu vaccination today (1 December). Public information has been published with information about the extended programme, including a leaflet that is available to order from Public Health England.
DHSC will also be updating its guidance to general practice and community pharmacy on accessing centrally supplied flu vaccines which includes an update on the availability of supplies.
Please note that it is also very important that routine childhood vaccinations are maintained to ensure these cohorts are not disadvantaged during delivery of the flu and Covid vaccination programmes.
Flu Vaccination for carers and people with a learning disability
Two short films have been produced on flu vaccinations. The first is for carers of people with a learning disability about the importance of vaccinating themselves and the people they care for. The second is about vaccinating people with a learning disability and autistic people with certain health conditions. People with a learning disability are four times more likely to die of something which could have been prevented than the general population (Disability Rights Commission, 2006). Both cover why it is important, who is eligible for a free vaccine, where you can get the vaccine and reasonable adjustments.
Call and recall of 2 and 3-year-olds
Please find a link to the latest NHS England call and recall letters, sent out for 2 and 3-
year-olds and at risk groups.

The flu letter for 2 and 3-year-olds was sent between 5 to 8 October 2020, and the at risk
letters from 26 to 30 October 2020.
At risk children in an 'age eligible' school flu programme cohort, were excluded from general at risk mailing to avoid parents/guardians receiving two letters for an at risk
eligible school child.
New PGD
NHS England (London Region) has published a new PGD (NHSE and I/PHE Flublok
Quadrivalent PGD v01.000) which can be found here. Practices should ensure that
any registered healthcare professionals who are due to administer vaccinations under
this PGD, should be made aware of this new version.
Any queries, email – england.londonimms@nhs.net
Update on the supply of inactivated flu vaccine ordering for children in clinical
risk groups for whom LAIV is unsuitable, and for children whose parents
refuse LAIV due to the porcine gelatine content from mid-November (from London Immunisation Team)
Around mid-November, PHE supply of inactivated flu vaccine will switch to Fluarix® Tetra,
manufactured by GlaxoSmithKline, for all eligible children aged less than 9 years who are
contraindicated for, or too young to receive Fluenz® Tetra AND are in a clinical risk group.
Vaccine arrangements for children in clinical risk groups aged 9 years and over, for whom
Fluenz® Tetra is unsuitable will remain as follows:

• Those vaccinated in general practice should be offered locally procured QIVc
where available. Where QIVc is unavailable, GPs can offer QIVe, either from
locally procured stock or centrally supplied stock available via ImmForm.

• School aged providers can continue to offer centrally supplied QIVe.

As set out in the flu letter published on 5 August, this year an offer of inactivated vaccine is
also being made to children whose parents refuse LAIV due to the porcine gelatine content,
subject to vaccine availability. This offer can now be made (Updated 20th November 2020). Arrangements should be made to ensure that children who previously declined vaccination due to the porcine gelatine content, are recalled and offered the alternative vaccine.
For confirmation that the use of the 'Inactivated Influenza Vaccine patient group direction (PGD) V08.00' may be extended to children whose parents refuse LAIV due to the porcine gelatine content, see the extension of eligible cohorts.
Vaccine for this cohort is now available to order by general practice and school aged immunisation teams via ImmForm. An announcement that ordering is live has been made on the ImmForm news page.

As always, the latest information on the availability of vaccines for the children's flu
programme is available on the ImmForm news page, so please check regularly for updates.
Fatwa on Flu vaccine containing porcine gelatine
The British Fatwa Council / Karimia Institute has issued a fatwa permitting LAIV for Muslims.
Glandular Fever error (Updated 4/11/2020)
Please be aware that about 30,000 patients who have had glandular fever in the past,
have wrongly received a letter from NHS England asking them to contact their GP for a
free flu jab.
We understand that NHS Digital is drafting an explanation/apology letter that should be
released later 4th or 5th November.
Flu Vaccination 2020 in South East London
SE London CCG is committed to maximising every opportunity for our residents to receive the flu vaccination this year.
SE London CCG is also keen to support the opportunity for our general practice providers to deliver an enhanced programme of flu vaccination.
SEL CCG encourages boroughs to explore a range of approaches to delivery through a blended approach of considering general practice, federation and PCN arrangements
The CCG encourages general practice, federations and PCN to consider a range of delivery models to maximise the flexibility and accessibility of flu vaccinations to their patients
The CCG will work with the LWLMC, local LMCs and borough teams to agree a financial framework for any additional appropriate and reasonable costs that would be incurred through this model. This may include the rental of large venues and any cost of vaccines which have not been used. This will take into account any local borough arrangements.
The CCG will support borough arrangements through SEL-wide communications.
The CCG will establish links with NHS London to ensure a flow of communication to borough teams
The CCG will commit to facilitating the effective distribution of centrally procured flu vaccinations through NHS England.
The CCG will work with practices, federations and PCNs to embed every contact counts and ensure that all opportunities to improve the interface between community, acute and primary care are taken to maximise the uptake of flu vaccinations.
The CCG expect only appropriately qualified staff with relevant skills and competencies to administer the flu vaccinations in line with Patient Group Directions and Patient Specific Directions.
Flublok Quadrivalent Patient Group Direction (PGD): NHS England London region has published a new PGD on its website. The is NHSE&I PHE Flublok Quadrivalent PGD v01.00.
Please note:
It is the responsibility of each practitioner to ensure they are working to the current PGD version.
It is also the responsibility of each practitioner to ensure the PGD is signed by both the practitioner and the clinical lead for the practice and that they are competent to work under the PGD.
You must also ensure that a signed copy of the PGD is always available.
Free flu immunisation e-learning programme
Health Education England (HEE) have developed a free flu Immunisation online training resource that is available on the HEE e-Learning for Health platform. The programmes provides all healthcare practitioners involved in delivering the national flu immunisation programme with the knowledge they need to confidently promote high uptake of flu vaccination and effectively deliver the vaccine programme.
District Nursing/Neighborhood Nursing from GSTT
As in previous years, District Nursing/Neighbourhood Nursing (DN/NN) teams will flu vaccinate housebound patients in receipt of regular care from the DN/NN teams. The teams have started this process already and will update their local GPs on progress.
Other Resources
Electronic notifications for flu vaccinations from community pharmacies (EMIS Web and TPP SystmOne practices)
From 27 October 2020 more GP practices have started to receive electronic notifications
when a patient registered with them receives a flu vaccination in a community pharmacy
that uses PharmOutcomes or Sonar.
Notifications arrive as a workflow task which will significantly reduce the number of paper
and email notifications you need to manually process, helping to improve quality and
timeliness of data.
GP practices using EMIS Web will have this new functionality switched on over thecoming weeks. TPP SystmOne GP practices already receive these notifications, but will
see an increase in volume as more pharmacies begin to send notifications in this way.
If you do not yet receive these notifications, your system supplier will inform you of your
switch-on date and provide further information and guidance.